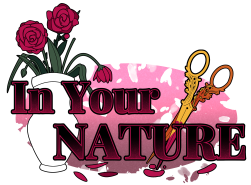 In Your Nature
A downloadable visual novel
What do you do when your life depends on staying on your stalker's good side?

This game is a horror visual novel. It will include themes of stalking/obsession, serial killings, manipulation, social isolation, depression, and anxiety. A comprehensive list will be included with the final game.

Fawn Darlington is a florist still living in the small town she grew up in; Walnut Park. She works with her boss at the local flower shop, spends her free time with her best friend, and other than that tries to keep to herself.
One day an old classmate who has been trying hard to become her friend confesses something to her.
They've been watching her. And they've seen something terrible that she didn't know about.
The realization of a stalker is bad enough. But who is the masked man they saw? Why would he target her of all people? Or is this all just a trick...?

Follow Fawn over the course of a three day story, choosing who she spends her time with and how to deal with the looming threat of a murderer targeting her.
Meet an all LGBT+ cast of characters and learn their connections to each other.
Explore a heavily branching narrative to get different endings, including Bad Ends when things go wrong.
Collect CGs for the CG gallery as you explore each route.
Make decisions that affect your ending by changing Fawn's relationship with each companion character.
Accessibility options for font settings and scaling.
Planned release for Windows, Mac, Linux, and Android.
Programming, Story, and Art by KarmaLarma
Music by TheDiabolicalWaffle
Follow the project here to be informed when the demo is released!

No Itch.io account? Sign up for the mailing list on our site instead!